Bucks County, Pennsylvania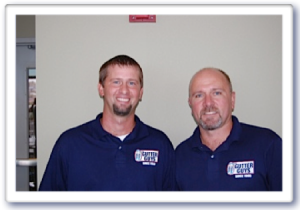 The Gutter Guys office located in Bucks County is owned and operated by Michael McKiernan and Joshua Williams. Mike and Josh both started out with The Gutter Guys as installers, and after several years opened their Gutter Guys together. Josh was one of the top installers in the Egg Harbor office and brought his knowledge and precision to the company to train and manage the installers. Mike was in restaurant management prior to joining The Gutter Guys and brought his management skills to run the office and estimators.
Many people don't realize that rain gutters are your home's first line of defense against water damage in inclement weather. Unfortunately, even a small amount of fallen debris can cause your gutters to clog, eventually contributing to rotting wood around doors and windows and even causing cracks in your home's foundation.
Bucks County, Pennsylvania receives approximately 46 inches of rain per year and 22 inches of snow, which is nearly ten inches more than the national average. Therefore, it's important that any necessary gutter cleaning in Bucks County is done as soon as possible.
The Gutter Guys also manufactures our own gutter guard system to protect your home's rain gutters from clogging. Our unique design is proven to handle up to 11 inches of rain per hour, and comes with a lifetime material and installation guarantee so you can rest easy no matter what the weather has in store!
Our expert gutter technicians would be happy to provide you with more information on this innovative GutterGard system, or show you samples of our seamless gutters. Whether your home requires a simple gutter repair or an extensive gutter replacement project, you can count on The Gutter Guys for award winning service!
Our rain gutter installers and gutter cleaners in Bucks County are proud to serve customers in Bensalem, Chalfont, Doylestown, Langhorne, New Hope, Perkasie, Quakertown, Upper Black Eddy, and Willow Grove.
For a fast free estimate, please contact The Gutter Guys at 1-800-GUTTER-1. We look forward to adding you to our list of over 500,000 satisfied customers!
The Gutter Guys
320 S. 7th St.
Perkasie, PA 18944
Click to call local or 800 +1 (800) GUTTER-1 OR +1 (215) 996-9976
We look forward to you joining our growing list of happy and returning customers.